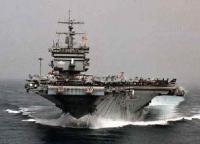 Operation Brimstone
According to a publication called

the USA has assembled the largest peacetime fleet ever off the coast of Iran.
The build up of naval forces in the Gulf will be one of the largest multi-national naval armadas since the First and Second Gulf Wars.

The intent is to create a US/EU naval blockade (which is an Act of War under international law) around Iran (with supporting air and land elements) to prevent the shipment of benzene and certain other refined oil products headed to Iranian ports. Iran has limited domestic oil refining capacity and imports 40% of its benzene. Cutting off benzene and other key products would cripple the Iranian economy. The neo-cons are counting on such a blockade launching a war with Iran.
The USS Iwo Jima and USS Peleliu Expeditionary Strike Groups have USMC Harrier jump jets and an assortment of assault and attack helicopters. The Expeditionary Strike Groups have powerful USMC Expeditionary Units with amphibious armor and ground forces trained for operating in shallow waters and in seizures of land assets, such as Qeshm Island (a 50 mile long island off of Bandar Abbas in the Gulf of Hormuz and headquarters of the Iranian Islamic Revolutionary Guards Corps).

If Russian and perhaps Chinese naval warships escort commercial tankers to Iran in violation of the blockade it could be the most dangerous at-sea confrontation since the Cuban Missile Crisis.

The US and allied Navies, by front loading a Naval blockade force with very powerful guided missile warships and strike carriers is attempting to have a force so powerful that Russia and China will not be tempted to mess with. This is a most serious game of military brinkmanship with major nuclear armed powers that have profound objections to the neo-con grand strategy and to western control of all of the Middle East's oil supply.
The Admiral Kuznetsov carries approximately 47 warplanes and 10 helicopters. The warplanes are mostly the powerful Su-33, a naval version (with mid-air refueling capability) of the Su-27 family. While the Su-33 is a very powerful warplane it lacks the power of the stealth USAF F-22. However, the

Russians insist that they have developed a plasma based system that allows them to stealth any aircraft and a recent incident where Russian fighters were able to appear unannounced over a US Navy carrier battle group tends to confirm their claims. . . .

(Their) missiles are designed to kill US Navy supercarriers by getting past the cruiser/destroyer screen and the USN point-defense Phalanx system by using high supersonic speeds and violent end maneuvers. Russian subs currently use the underwater rocket VA-111 Shkval (Squall), which is fired from standard 533mm torpedo tubes and reaches a speed of 360kph (230mph) underwater.

There is no effective countermeasures to this system and no western counterpart.
The last disturbing item in the article is a possible means of instant retaliation by the devastated nation. The author mentions . . . .
. . . . the advanced biowar (ABW) that Iran, and to a lessor extent Syria, has. This places the motherlands of the major neo-con nations (America, France, the United Kingdom), as well as Israel, in grave danger. When the Soviet Union fell the Iranians hired as many out-of-work former Soviet advanced biowar experts as possible. In the last 15 or so years they have helped to develop a truly world class ABW program utilizing recombination DNA genetic engineering technology to create a large number of man made killer viruses. This form of weapon system does not require high tech military delivery systems. The viruses are sub-microscopic and once seeded in a population use the population itself as vectors. Seeding can be done without notice in shopping malls, churches, and other public places. The only real defense to an advanced global strategic biowar attack is to lock down the population as rapidly as possible and let those infected die off.
(read the full article here and related articles in many other publications including the ironically titled Free Market News)
This of course, doesn't take into account the Iranian version (unmanned) of the Kamikaze bombers from the Second World War. These are pilotless, but armed drones.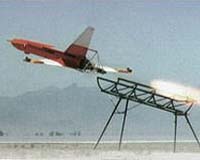 Tehran (AFP) Feb 10, 2007
Iran said on Saturday it has started mass producing and using a stealth drone with a range of 700 kilometres (420 miles) that it claims is undetectable to radars. . . .
His announcement comes a few days after troops under his command successfully tested a land-to-sea missile with a range of about 350 kilometres (210 miles) and a new Russian-made air defence missile system.
"We have built birds without passengers (drones) that can carry out suicide operations on the US Navy, at any depth if necessary, to make them leave the region in disgrace," said Ali Shoushtari, deputy commander of the Guards' land forces.

Warning about a "defeat for the enemy", Shoushtari said: "Americans know that if they confront the Islamic system, they wil not be secure in the region or at home."