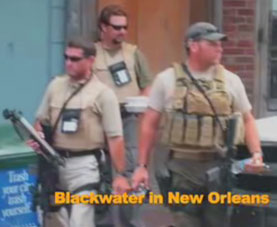 Blackwater used as mercenaries in the USA after New Orleans floods
It has just been reported that employees of the mercenary army BLACKWATER employed by the US to guard its personnel and terrorise the subject population have just been ordered to leave Iraq by the Prime Minister, after slaughtering at least 11 civilians when one of their convoys came under mortar fire.
A Washington Post employee in the area at the time of the shooting witnessed security company helicopters firing into the streets near Nisoor Square in Mansour. Witnesses said they saw dead and wounded people on the pavement.
The Iraqi government will investigate the incident and "probably will withdraw the authority for this security company in Baghdad," said Brig. Gen. Abdul-Karim Khalaf, an Interior Ministry spokesman.
"The security company contractors opened fire randomly on the civilians," he said. "We consider this act a crime ." ________________________________________ _( By Joshua Partlow, Washington Post Foreign Serv )
Khalaf said the contractors opened fire after two mortar rounds landed in Nusour Square in the western Baghdad district of Mansour.
"By chance the company was passing by. They opened fire randomly at citizens," Khalaf said. Eleven people were killed, including one policeman, and 13 people were wounded, he said. (Christian Science Monitor)
This follows mounting disquiet over the involvement of mercenary armies in global conflict; foremost amongst them being the example of Blackwater in Iraq. There is also a growing unease in the US about the ever-increasing power and wealth of these 'contractors' , due to the 'revolving-door' between Government and the boards and shareholders in these sinister organisations.
A recent series of articles buy Naomi Klein described how the neo-con idea of imperial liberalism, or globalisation had built on the fear and uncertainty generated since 9/11; and had imposed a privatised state of terror on both their own, and non-compliant populations abroad. (This is a subject also dealt with in the documentary Power of Nightmares )
( Part 1 ; The age of disaster capitalism - Part 2 ; The erasing of Iraq - Part 3 : Why failure is the new face of success)
The Iraqi Government, who are guarded by these unaccountable foot-soldiers of the US Corporate Empire, had better watch their backs. . .
Latest update ; representations from US Government to protect their proxy army
BLACKWATER - Shadow Army ; YouTube film investigating the mercenary force
The Truth About Markets - Gulag Wealth and Privatised Terror
George Bush and the fake sheik - what can you believe in this litany of lies?
BLACKWATER'S ERIK PRINCE, War Profiteer, Republican - including video